Kaw Valley Callers School
In the mid 1970's, Karl and Helen Edwards, Lawrence, Kansas began Karl's Klinic, a weekend school for square dance callers. Karl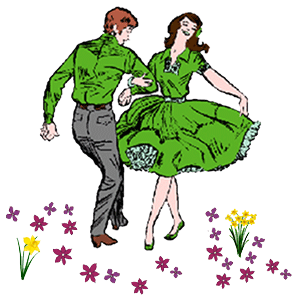 was an accredited CALLERLAB Caller Coach and many prospective callers from Kansas and surrounding states attended the school. Several of these attendees are still calling today. Karl and Helen ceased their school in the early 1980's.
In the mid 1980's, Dana Schirmer was concerned with the lack of newer callers entering the calling profession and, having attended one of Karl's first schools, confronted Karl about assisting with an annual school. Karl and Helen agreed with the understanding that the first year Karl would be the Director and Dana the Assistant Director. The second year Dana would be the Director and Karl would be the Assistant Director. The name chosen for the new school structure was Kaw Valley Caller School. The first year was a success and they were beginning to prepare for the second year when Karl had a fatal heart attack leaving Dana to carry on the tradition of the school.
The school is structured for newer callers and those that have an interest in calling but are not sure they have the talent. The schedule is the unique part of the school. Other callers schools are four to five days long and become very intense especially for newer callers. Kaw Valley is set up as a series of weekends with homework during the week to allow students the opportunity to formulate questions and work on their assignments without being overwhelmed with an intense schedule. Kaw Valley provides individual assistance, guidance and information that gives the attendees the tools to begin their calling career. Normally the school covers three to four weekends and is far less expensive than attending other schools.
Square dancing needs new callers to continue our activity. Even if you do not want to become a club callers there are many needs for people to teach lesson for clubs, help in schools, 4-H's, and do local demonstrations. If you have the interests, Kaw Valley can help you determine whether you are able to call.
Our next class will be in June 4 - 8, 2019. Please contact Dana by E-Mail or by phoning 785.554.7221 about the schedule, times, cost and class location. Also visit web-site Heart Of America Callers School or www.Dana.WeSquareDance.com