Sam Hunsaker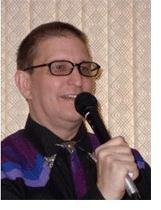 Born in 1960 - Sam is no stranger in front of a microphone no matter how large or small the group. Performing magic tricks from an early age for scouts and birthday parties or Playing guitar and singing, Sam has always been comfortable entertaining people.
Sam and Robin Hunsaker have been Square Dancers since 2003 and before moving to Kansas enjoyed line dancing at the many venues in Southern California.
Sam has always enjoyed a good party and would usually be the first out on the dance floor. He line danced in the 90's while working on Stage at Disneyland mostly doing comedy work. Sam is always known for his high energy and sense of humor. Sam and his wife Robin started square dancing in 2003 and often helped out at lessons for beginners.
In 2009 Sam attended a school for Callers learning to Patter, do Singing Calls and instruct. In 2010 Sam and Robin attended the Heart of America Caller College.
Sam calls Square Dance for Basic, Mainstream and Plus square dancing. Sam also teaches Basic and Mainstream square dancing.
Sam is available for Dance Parties with a variety of music from Hip Hop, Country, Line, to old folk dance, and anything in between.
Square Dance Calling not the only thing Sam does. Sam also provides music for fun folk dance and western dance along with modern dance style dance parties.
Along with his energy and sense of humor Sam brings along a professional SAFE and FUN element to any party.
Sam and Robin live in Lawrence, Kansas.
Caller Sam is a member of Callerlab, The KSDCA and the NEKSDCA. He is BMI and ASCAP licensed.