Dance Instruction
Dance Entertainment
Party Fun
Donna & Dana Schirmer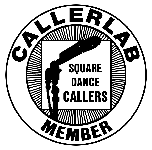 Square Dance Parties!
Dana is available for your Square Dance party. He has 38 years of
calling experience and has conducted hundreds of fun nights and
party nights. Whether you are a social group looking for a
"Square Dance Night" or a corporation who is investing into
an evening of fun for your employees based around a
"Western Theme," Dana has the professional experience to
entertain for the evening. All the music and sound equipment is
provided by Dana. Fun for all ages and a great social mixer.