Patricia Jean Tock - September 23, 1943 - August 28, 2019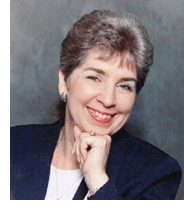 Patricia Jean Tock, 75, was born in Santa Barbara, California, in 1943.
Patricia Jean was born to Jean (Bristow) and Harry Hart. She was the oldest of six Harts: three girls (Pat, Peggy, and Merry) and then three boys (John, Alan, and James).
The Hart family moved from California to Kansas in the mid-1940s, when Harry came home from WWII. In Kansas, the Harts lived in Rantoul, Ottawa, Bonner Springs, and Kansas City, Kansas, where Pat graduated from Turner High School in 1961.
Pat married high school sweetheart Sam Leaton soon after, and then came daughter Karen in 1963 and son David in 1966. Pat worked primarily at home until the mid-1970s, when she worked for Sears and then for a little company called United Telephone, doing accounting work. By the time she retired in 2006, United Telephone had merged with Sprint. While working for Sprint for 26 1/2 years, Pat also earned a Bachelor of Science degree in Human Resource Management from Friends University (1999).
After moving to Lenexa in the early 1980s, Pat and Sam split, and she eventually met a guy named Robert Tock, a fellow square dancer. Pat and Bob married in 1990, in Cheyenne, Wyoming. Pat had been square dancing since 1983. She was a member of the Single Promenaders, Swingin' Singles, Silver Dollar Squares, and Lotawana Sailors. She and Bob were presidents of the Heart of America Federation of Square Dance Clubs in 2002, 2003, and 2006, and VPs in 2001, 2004, and 2005.
Pat liked to be involved. She was a room mother throughout her children's grade school years, and she was a Girl Scout leader for KCK's Troop 45. In the 2000s, Pat volunteered for Kansas City Hospice and Kansas City Hospice House, work of which she often said, "I felt that every patient and every family I visited gave me so much more than I was ever able to give them." She was also a volunteer tutor and did PR for the Literacy Council of Independence. She did her civic duty by volunteering as an election judge at the polls.
Pat was a walker. Beyond walking around Lake Tapawingo at least once a day, she collected 5K Walks like seashells. She also walked while traveling. She and her "soul mate and best friend" Bob were dedicated RV travelers, and Pat had been a camper pretty much since birth. Pat, Bob, cat Winnie, and the RV went all over the contiguous US (except North Dakota), but they especially loved the coasts. It's hard to think about Pat without also thinking of lighthouses. Her house and picture collections were full of them, from the Maine and Gulf lights to the lights of Lake Michigan and Oregon, where her parents lived for a while among the cranberry bogs near the small coastal town of Bandon.
When they were tired of the RV, Pat and Bob cruised, traveling through the Caribbean, and to Alaska and Hawaii. In 2012, daughter Karen, a high school teacher, took Pat and a small group of high school students to Italy, Turkey, and Greece. Some RV trips, though, were to visit her grandtwins, Dominic and Olivia, in Kirksville, Missouri, where her son David teaches at Truman State University.
But the twins weren't her first grandchildren, as Bob's children also became parents, giving us Stacy, Kelsey, Kristen, and Colby--a full load of grandmothering to do. Pat made a hobby of spoiling all of her grandchildren with toys, games, crafts, and bakes. The twins loved wrestling with her and trying to explain Minecraft over and over.
If there was one thing Pat loved as much as walking and traveling, it was baking. She was a cookie master and learned professional cake decorating. Her home was never without a plate full of cookies, or a cake, or a pie, or cinnamon rolls. Pat's children carry on her baking urge with gusto. And while baking, the TV was on, often tuned to the Royals, Chiefs, and Jayhawks (Rock Chalk Jayhawk!).
Pat wanted us to know that she was "extremely proud of my children, grandchildren, brothers and sisters, and extended family." Her way of living, like her mother's before her, was critical to any success her children and grandchildren can claim. Pat was a constant example of determination and self-improvement. She was a life-long learner and imprinted that habit on her children, along with the need to help others. Her son and daughter, one granddaughter, and one daughter-in-law are teachers.
Pat passed Aug. 28, 2019, at St. Luke's Hospice House in KCMO, after fighting breast cancer that had metastasized to her brain. She follows her beloved parents, Harry and Jean (Bristow) Hart, her little brother Jim, and her husband Bob. She is survived by four siblings and their spouses: Peggy Harrison (Roger) of Mountain Grove, Missouri; Merry Waldrip (Jerry) of Prairie Village, Kansas; John Hart (Joan) of Appleton, Wisconsin; and Alan Hart (Kathy) currently serving as missionaries in Mozambique. Surviving also are her two children, Karen Eickhoff (Randy) of Kansas City, Missouri; and David Leaton (Lesley) of Kirksville, Missouri; two grandchildren, Olivia and Dominic Leaton; and her step-family: Beth Hayes (Kerry) of Lone Jack, Missouri; Mike Tock of Grain Valley, Missouri; grandchildren Stacy Hayes of Pilot Grove, Missouri; Kelsey Hayes of Lone Jack, Missouri; Kristen Ford (Kyle) of Lee's Summit, Missouri; and Colby Tock (Ciara) of Oak Grove, Missouri; and great-grandchild Knox Austin Ford. Pat also leaves a cousin, Mary Alice Orito, of New York, and many nieces and nephews and their children.
The family would like to thank Pat's oncologist, Dr. Aimee Kohn, whose honesty, openness, and humanity helped mom more than can be expressed in words. We also thank St. Luke's Hospice House staff. They were simply excellent during mom's last week of life. Thanks also go Pat's many square dance and Lake Tapawingo friends who provided a helping hand and companionship during her illness.
A memorial service for Pat will be held Saturday, September 7, at 10:00 AM at Newcomer's Floral Hills Funeral Home. We will continue to celebrate her life with an open house from 2:00-4:00 PM on September 7 at the Lake Tapawingo clubhouse, 244 Dockside Drive, Lake Tapawingo, Missouri. In lieu of flowers, Pat suggests donations to Kansas City Hospice, St. Luke's Hospice, or Literacy Kansas City.