Franklin "Frank" Alexander
November 4, 1933 ~ November 11, 2021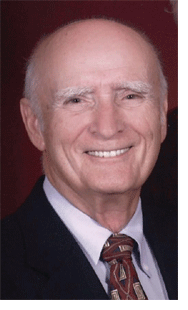 Funeral services for Franklin "Frank" Alexander, 88, Lawrence, will be held at 11:00 a.m. Tuesday, November 16, 2021, at Centenary United Methodist Church, 245 North 4th St. in Lawrence. Burial will be held at Oak Hill Cemetery. Frank passed away on Thursday, November 11, 2021, at LMH Health.
Frank was born on November 4, 1933, in Memphis, MO, the son of Paul J. and Leona M. (Hocker) Alexander. He married Betty J. St. Clair on September 27, 1951, in Downing MO. He and Betty relocated to Lawrence, KS in 1953 where they established their home for approximately 7 decades. Frank was an Insurance Professional that achieved his CLU and CFC and was well known and respected for his service to both his clients and community. He worked tirelessly to help his clients and friends protect both life and property against unforeseen risks and to make their quest for a secure future a reality. Frank never turned down an opportunity to help anyone that could use his assistance in their efforts to succeed and make a contribution to their family and community. Frank was a champion of the "little guy" and was dedicated to making their lives better.
Frank was active within the Lawrence community as he was a member of Centenary United Methodist Church, the Breakfast Cosmopolitan Club, Masonic Lodge #6 Scottish Rite, the Lawrence Underwriters and a past member of the Lawrence Jaycees. He served in leadership roles within all of the above organizations. He was a founding member of the Cosmopolitan Club and was Cosmo-of-the-year twice. He was Happy Time Squares, Square Dance Club Co-President, which he served two terms.
Frank and his wife, Betty J. St. Clair, married on September 27, 1951, in Downing, MO. She survives him at their home. Other survivors include his two sons, Patrick L. and (Teri) Alexander, Lecompton, KS, and Paul F. and (Marsha) Alexander, Baldwin City, KS, daughter, Sharon L. and (Roger) Stumfoll, Hastings, MN; three grandchildren; three step grandchildren: and fifteen great grandchildren. The family will greet friends from 5-7 p.m. Monday, November 15, 2021, at the Warren-McElwain Mortuary. Memorial contributions may be made in Frank's name to Centenary United Methodist Church or the Lawrence Memorial Hospital Foundation and may be sent in care of Warren-McElwain Mortuary, 120 W. 13th Street, Lawrence, KS 66044.