Virginia Yerta - March 31, 1939 - September 1, 2016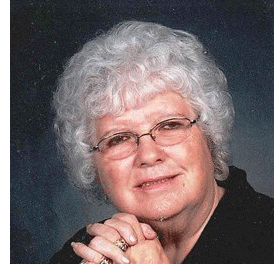 Visitation: Tuesday, September 6, 2016 from 6:00 to 8:00 PM at Penwell-Gabel Funeral Homes Southwest Chapel, 3700 SW Wanamaker Topeka, Kansas 66610, 785.272.9797. Directions.
Service: Thursday, September 8, 2016 at 10:00 AM. Berryton United Methodist Church, 7010 Berryton Road, Berryton, Kansas 66409 785.862.9494
Virginia Fern Yerta, 77, Berryton, passed away Thursday, September 1, 2016 at a local hospital.
Virginia was born March 31, 1939 in Richland, the daughter of John and Hattie (Morris) Lavin. She graduated from Berryton High School.
She was employed by the State of Kansas, and later operated a hair salon in her home and was a day care provider for over 40 years. She was also a Square dance caller for 30 years.
She was an active member of Berryton United Methodist Church, Harmonettes of Carbondale, and several Topeka area Square dancing clubs. She enjoyed reading, embroidery, singing, tatting and watching her grandchildren play baseball.
Virginia married Grady Ralph "Pete" Yerta on April 19, 1959 in Berryton. He died October 18, 1985. Survivors include daughter, Lynette (Bruce) Combes, Berryton; sons, Randal Yerta, Overland Park, Ricke (Jodi) Yerta, Topeka; grandchildren, Danielle Quiggins, KyLee Kies, Trey Yerta, Trevin Yerta; great-grandchildren, Nisa, Abigail, Dexter; and brother, Lloyd (Judy) Lavin, Tecumseh. She was also preceded in death by a son, Ralph Yerta; 2 sisters; and 4 brothers.
Funeral services will be held at 10:00 AM on Wednesday, September 7, 2016 at Berryton United Methodist Church. Burial will follow at Lynn Creek Cemetery. The family will receive friends from 6:00 - 8:00 PM on Tuesday, September 6, 2016 at Penwell-Gabel Southwest Chapel, 3700 SW Wanamaker Road. Memorial contributions may be made to Berryton United Methodist Church or Croco Hall.